Service Level Management
Customizable notification rules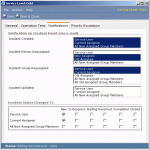 Define custom notifications rules for each service level. This allows you to define groups of users to be notified on certain events for each service level. You can manage the service from the service level management screen by modifying Services, Service Levels, Service Level Agreements according to your specific needs.
Hours of operation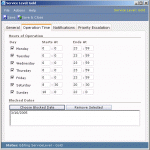 For each Service Level you can set the hours of operation in your help desk. This feature allows you to set the "working hours" of the help desk support for the SLA in one week. You can also add annual holidays. Incidents that are created using a service level will only be escalated during working hours.
Incident Escalations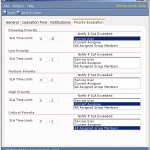 Polar Help Desk comes with integrated Scheduler service that monitors your incidents and escalates them in appropriate time. When an incident reaches escalation time the Scheduler service will increase its priority and send the notification to selected group of users. Priority escalation time can be customized for each service level, as well as the set of notifications for your supporters and personnel.