How to Guide : Incident dispatching
The problem:
Company Super Software Inc. offers support to their software products using Polar Help Desk. There are 5 support representatives, each for one part of business. Jack is a marketing expert, Joe is a software developer, John is a software tester, Mark is a sales representative and Robert is a work coordinator. For every new incident they all get E-mail, so Joe gets mail on software licensing while Mark gets question about new version. That can be annoying sometime. E-mails should be sent to appropriate person, so Mark receives only questions about sales and Joe about software development.
The solution:
There are 2 ways of configuring Polar Help Desk to achieve functionality described in "The problem" section of this guide. First solution is to use different template for each type of question while second solution is to assign one person to be the incident dispatcher so he would receive all incident notifications and assign them to the appropriate support representatives.
1. THE TEMPLATES SOLUTION
To dispatch questions to Support representatives using templates you will have to create number of templates which corresponds with number of support groups/users. Here is an example for our Super Software Inc. They will have 5 support groups, so first step is to create those groups.
Creating groups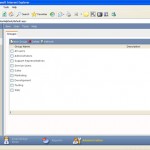 In Administration desktop, choose Groups on the left side menu and add as many groups as necessary. In our case, we add 5 groups to the existing default groups: Sales, Marketing, Development, Testing and Web, as you can see in the picture. While creating groups you should also add members to appropriate groups.
Creating templates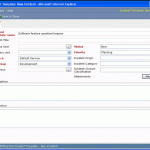 After creating groups and filling them with members, next step is to create templates for incident types and assign them to appropriate groups. In Administration desktop select Templates on the left side menu and create required number of templates. In our case, we create 5 templates and assign each one to the pertinent group. The new templates are: Software feature question/request, Software bug/problem question, Software sales question, Software marketing question and Web page question. While creating templates we assign them to appropriate group as you can see in the picture.
Assigning templates to users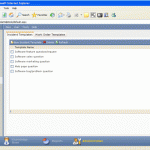 The final step is to assign those templates to service users so they can see them. Go to Administration desktop, choose Roles on the left side menu and click on Service user. When the window opens, find tab Incident templates and add all 5 templates as shown in the picture. With that, our setup is completed. Now, when Service user wants to create new incident he/she has 5 templates to choose from and depending on that choice incident will be assigned to right Support representative/group.
2. THE INCIDENT DISPATCHER SOLUTION
The template solution, as described above, cannot function as it should sometimes. When a user encounters a problem or has a question to ask, he is given a choice of 5 templates. This can be confusing for the user who doesn't know which template is appropriate, so he chooses the wrong one and once again support representative receives notification of the incident he is not responsible for.
Incident Dispatcher
Solution to that problem is the Incident dispatcher. One of the support representatives is chosen as an incident dispatcher. His/her duty is to receive information on all new incidents and to assign them to the pertinent support representative/group. This solution is more user-friendly since a user doesn'thave to make choice from 5 templates. A user simply creates a new incident which is assigned by the incident dispatcher to the support representative.
To setup this solution we should add another group called Incident dispatcher, first.
Creating groups
In Administration desktop, choose Groups from the left side menu and then create new group and add user who will be the incident dispatcher for that group.
Modifying templates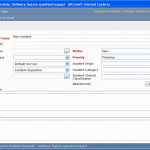 Go to Administration desktop, choose Templates from the left side menu and delete all templates except one and modify that one to be assigned to the incident dispatcher, as it can be seen in the picture.
Assigning template to users
We should check if that template can be seen by service users. In Administration desktop, choose Roles from the left side menu and click role Service user. Under tab Incident templates check if template we created before is in the list, if not, add it. The setup is completed.
Now Incident dispatcher is notified of all new incidents and then he reassigns them to appropriate support representatives/groups.