Polar Help Desk 4 Overview
Polar Help Desk 4 which has been implemented in over 1000 companies worldwide is still available in our shop and as a free software with one named license. Polar Help Desk 4 Free has been downloaded and used in more than 50000 companies.

Fully featured and free for 1 technician and unlimited end users.
You install and align the software for your organization's needs. Should you find it fitting as your help desk solution, keep using it. In case one technician license is not sufficient for your customer support, you simply order more licenses.
Online demo gives you first hand insight of how does this help desk software solution work from a point of view of an administrator, a support representative or a customer. You will not be required to fill out any registration forms.
One time fee starting at just $240 per technician. Unlimited end users. Each customer gets 1 named license as a gift…
Source code with unlimited technicians available at only $299 (ex $2000).
Buy Polar Help Desk 4 and label it with your own brand. You are free to sell your new product however you see fit and keep all the profits to yourself!
What is Polar Help Desk 4?
This is a web based help desk software which has been on the market for 5 years now and it has been implemented in more than 700 companies worldwide.
Feature-rich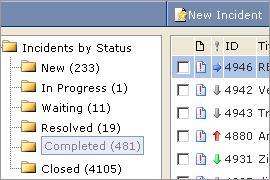 Incident management
Knowledge Base
Email integration
Active Directory integration
Service Level Management
Reports
Multiple languages support
Clear user-friendly interface combined with above features helps you to set your online customer support fast and easy.
Source code
Polar Help Desk source code is available for purchase at US$ 299 (ex$200) until Unlimited technician license is included.
Since we deliver the full source code of the product (not as API or SDK), you are allowed to make any modification:
integrate help desk with other applications of yours
add or remove features
create web services
connect it to third party's systems and more
Free version
Download the fully featured Free Polar Help Desk 4. This free version includes:
Web based help desk software with one named license,
Standard Maintenance contract (free minor updates, patches, bug fixies),
Free customer support through our help desk.
Get the details