ZIP Light&Crypto Light Free

Polar Zip Light and Polar Crypto Light FREE!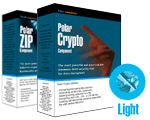 Simplicity and power
Add powerful compression and unbreakable encryption to your application within seconds.
Free for commercial use – fully functional, no charge, no obligations, no ads, no forms to fill out. Download these components right now!
Polar Zip Light
ActiveX Control that will allow you to seamlessly add zipping functionality to your applications and meet all your needs for extensive use in Windows applications. Now, you can download a fully functional version completely free.
Polar Crypto Light
If you want simple but powerful encryption, no matter whether you are a beginner or a an expert, you've come to the right place. Polar Crypto Light is simple to use, yet supports the securest, most recommended and most up-to-date cryptographic standards. Now, you can download a fully functional version completely free and combine the simple and secure.
FAQ
Can I use Polar ZIP Light and Crypto Light for commercial purposes?
Yes. You may use Polar Zip Light and Polar Crypto Light commercially, with no additional fees paid to Polar. All you have to do is download the product and you get the license under which you are free to use the product your business provided the software is used in accordance to the Polar End User License Agreement. The Agreement is the part of the software.
Can I get a certificate that this version is legal for commercial purposes?
Such certificate is available at request. Send an e-mail with the license name and address to sales@polarsoftware.com and Polar will send you the certificate.
Do I need to register to download Polar ZIP Light or Crypto Light?
No. You are free to download it without any form of registration.
Does my whole developer team get to use these products or do i have to pay additional fees for multiple users?
No, you do not pay any additional fees to Polar. You are free to install as many copies as you need.
Do I get the source code of these free products as well?
No, these products do not come with the source code. If you need the source code, you can acquire it by purchasing Polar Zip Component and Polar Crypto Component.
What are the differences between these free products and the ones priced at US $239?
The products priced at US $239 are named as Polar ZIP Component and Polar Crypto Component.
Those components have more advanced features and come with the full source code. You can check the comparison tables here:
What is the market value of these products?
Polar Zip Light and Polar Crypto Light were previously marketed at US$ 85 (each).
If any additional updates come up do I get any discounts for them?
During this time limited offer all updates are free (you will be able to download it from the same location as now). Also, you enjoy all the rights and benefits as any other regular customer, so when this offer expires, major upgrades will be available for you at special upgrade price.
What does "time limited offer" mean?
That means that Polar will offer a free downloadable version of Polar Zip Light and Polar Crypto Light for a limited time only, and that this offer can be terminated by Polar at any time without prior notice.
Do I get support for these free products?
We are not obliged to provide technical support for these free products. However, you can post your questions to our Help desk and we will do our best to help you, although we do not guarantee a timely answer.